Single Queen & Double Queen Suites
Just minutes from the Kenai Airport and close to shopping and restaurants, Kenai Aspen Suites Hotel is the newest hotel on Alaska's Kenai Peninsula. Enjoy generously sized guest suites with fully equipped kitchens and spacious bathrooms, and complimentary WiFi
Why You'll love it:
Free WiFi
Flat Screen TV's
Free Coffee
Full Furnished Kitchen
single Queen Suite Floor Plan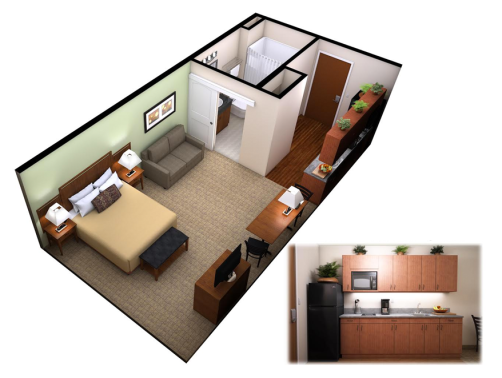 View Larger ₊
Double Queen Suite Floor Plan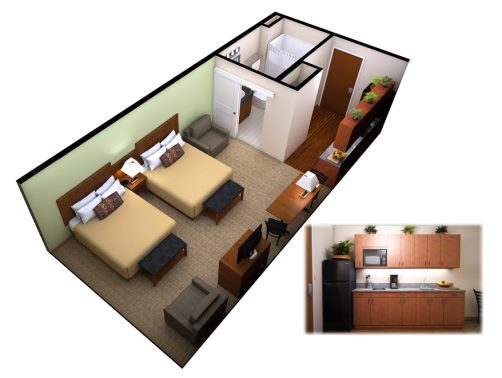 View Larger ₊
ADDITIONAL ASPEN HOTEL FEATURES:
Our inviting and contemporary design and furnishings make you feel right at home.
Guests will appreciate a generously sized dining table and desk, large bathrooms with mirrored closet doors and a clothes basket, iron and ironing board. Some guest suites also offer sofa beds. Enjoy luxurious Tarocco bath products from Italy, formulated with olive oil and Sicilian red orange, rich in vitamin C and other powerful antioxidants.
Additional Kenai Aspen Suites Hotel amenities include; guest laundry with vending, fitness room, and complimentary coffee bar in the lobby proudly serving Heritage Coffee, an Alaskan favorite since 1974.
Kenai Aspen Suites Hotel also offers weekly housekeeping services and our partnership with Alaska Airlines® Mileage Plan™ .
Choose Kenai Aspen Suites Hotel for a comfortable stay, affordable rates and our friendly staff at your service.